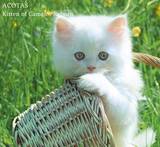 The Abyss is dedicated to Frank Mason, rper of Acotas/Dinsdale/Dr. Adam Lorne who left this life on 4/1/11 and Ali's Father who passed away on 2/10/12.

I've been rping for what seems like ages in various different sites which I've met so many friends I've lost track, but to me each and every one I've met has had a place in my heart. One accomplishment I'm proud to state is that during my time of rp'ing, I've left a legacy at each site: this is the 4th newsletter I've started, not including our rooms, and each site has kept my idea and continues to use it. Some have even expanded and used it for their other "projects".
I love writing, with a degree in journalism which I use quite a bit in rt, writing for several papers and even one magazine. My favorite rp involves the supernatural, which is also my favorite type of books to read and movies to see. A trend, you're darn right.

I co-own Dark Realities, Camelot Reborn, and The Turn and love being here at RPO because of those I've met and those I've yet to meet. My favorite thing in life is helping others and to see someone smile, thus part of my reason for working on this project, to hopefully help another and make their life better in a small way.

NAME:
Cricket

AGE: hahaha old!

OOC NAME: Lola

CHARACTERS:
Chastity te Arawa
Gabriella Prophet
Petra Swan
Taryn Covington Thorne
Sydney Stanton
(There are more but over time these are the ones that you might meet)
HOBBIES: ROLEPLAYING, Reading, Writing, Computer games, Graphics, Website Design, Fishing, Being outdoors and lots more.

LIKES: Anything supernatural. *LOL* I love to use my imagination and I love to write. Therefore RP is a very good outlet for me. I like chocolate and popcorn...though not together.

DISLIKES: I really dislike it when we are judgemental. I say "we" because it has been my experience that we are ALL judgemental from time to time.

HOW LONG HAVE I BEEN RP'ING: Oh Good grief. Lets see.....I started with dinker in Gor in Chatropolis back in....*bites lip* errr...I believe that was 1998 or 99.






All my life I have enjoyed helping others and been inspired by the heroes of old. I've always had this creative drive and both of these things are evident in the life I chose. I am a Licensed Paramedic in the state of Texas and have a degree as a Paramedic.

I have been a medic since 1986 when I went into the Air Force and in that time received casualties from three major conflicts from 1986 till I left in 1993. I have been Role Playing since the early 80s when I was introduced into such by such games as Boot Hill, the original box set, and other Early TSR games, including Dungeons and Dragons.

I have been on-line role-playing since the mid '90s and was the creator of Camelot Reborn when it first came up, and have created a few different rooms over the years. Right now I am the co-owner of Camelot Reborn, Dark Realities, and The Turn. I have been a fan of almost all types of science fiction and fantasy, which does encompass many other things as well such as supernatural stories and the like.







NAME:
Cat Ceder
AGE: 40
OOC NAME: -=The MACK Cat=-
CHARACTERS:

DR: Dante, Angelus, Hunts By Night (Daniel Jacobs), Alexis Chat, N'Astrith, Jacson Bloode, Jacob Russell, Jack the Ripper, Jacob Blackwell and Freddy Krueger - NPC Camelot: Robin Hood
The Turn: Sherlock Holmes

HOBBIES:
ROLEPLAYING Table Top & Online
board games
computer games
cooking

LIKES:
All sorts of things, but mostly good people and good times

DISLIKES:
Rude people, plain and simple

HOW LONG HAVE I BEEN RP'ING:
About . . . 31 years roughly. I started with D&D first edition well even before that Chainmail, regardless, I started there and when Online became a reality I started there and have been doing it ever since, I love where I RP the friends I've made and the people.






Matthew Gillespie


Location: Halifax, Nova Scotia, Canada. Yes Canada, so deal. But in turn we are Very nice. Hi –waves to the world.-

Age & Sex: That you well never know, & the other one yes please, ok was just told That is not what they needed, Male.

Some things about me, that don't tell other people, hey look other people. Oh my, where to begin, I have one year of college (Digital Animation) I still do odd things for people with that, um was & still am a volunteer fire fighter out west (Where I was, it was mostly car accidents.) I graduated high school with honours all 3 years. I don't get out as much as I like too, but when the time comes I do get out with friends. I work for a casino right now. The hours are weird so far. I like to talk to & meet new people from all over. I am a pretty good person, I'm not online if something is bothering me, don't like to mix my RT with IC so. I'm someone if I'm around I'm there.

Role playing History: Well here we go strap in people. Ok got into the RP world back in 1999 or earlier not too sure it has been too long, well a friend of mine at the time got me into it at a site called darkworldbynight. The site is not up anymore from what I have seen, that is where all, or should I say the Maxwell family, started (Tarance & Alyssa Maxwell.) Others followed (Max Parson & this other side at the time Mike.) These are the original 4 that I started off with. Stayed on dark world for about 5 years off & on. Was trying to write things about the Maxwell's, then in late 2002 I moved out west to work & stopped altogether, came back to NS, in the spring of 2003.

Took 2 more years off & was writing the history of the Maxwell's. Then in 2004 went to college, kept doing the history, I can't remember all the things that I did from there I was with Dark Realities when it was over at POD, that was at the end of 2009. I have been doing many things since these day, to this point I have 5 main characters that revolve around the Maxwell's 3 of them are & 2 are Parson's, I finished the history over 2 years ago now, I have know started to write a book, or should I say books about this family. Almost done the first book & hope to get it looked at soon.

I just recently tried to find the book of Araqua witch plays a very big roll in the story line to the 5 characters that I play, but I have not put it into the story line yat, I have to re-write the whole thing because I lost it a few years ago, or something like that. The last year & half has been great at RPO, I tried something new & opened my own room & became a member of this site, something I wanted to do for some time now, just didn't really feel it was safe at that time but now its good.

Room Owner: Wizard55/Matthew - Toronto Nights

Message Board: http://torontonights.proboards.com/index.cgi

Characters: Carter Maxwell, Tarance Maxwell, Alyssa Maxwell, Max Parson, & Mike Parson OtherCharacters: Eric Davis, James Rex, James Aston, & Lukes Aston. Abel Grayson.







NAME:
Amber
AGE:26
OOC NAME:McCormick
CHARACTERS:
Trinity McCormick
Emily McCormick
Catherine Soulstone
Aaliyah Soulstone (occassionally havent really found her niche yet)
Faith
Serene

HOBBIES:
ROLEPLAYING Duh
horseback riding
reading
fishing
camping
board games
computer games
cooking

LIKES:
country music (although I really listen to just about anything)
Romance books and movies
Coffee and Tea
laughter

DISLIKES:
Rude people
lies
most Rap music now adays cause its all about sex and violence

HOW LONG HAVE I BEEN RP'ING: bout 10 to 13 years now.

Staff:
Name:: Mourningstar

Age:: 29

OOC Name:: Mourningstar

Characters:: Cypruss Cane, Dominic Cane, Gabriel Shadowstar, Rigel, Torin, Cobe, Rathien, Kadin DarkSoul, Lucky Veresova, Damian Hexx, Ares Secor, Luciander DarkeWind, Mercer, Merek Valdis, Kaleb Romanov, Keagan Darkborn, Setheus Tagas, Ramsey Carramicchi

Hobbies:: Well I like to write songs and poetry, reading (mostly vamp style or dark fiction novels, Favorite book series is called Kushiel and Lords of the Underworld), Av designing, graphics in general, most anything related to computers or electronics, always tinkering with something, music of course, playing pool and drinking if thats even a hobby. if it is I'm DAMN good at it, um lets see, boxing (amateur boxer myself), oh yeah and bar fights plus working on cars, and motorcycles.

Likes:: To sum it. Anything that is a thrill or something that I would consider fun and yes that is a wide range of the spectrum but its easier to say that the long list that could be here.

Dislikes:: To be on the safe side I'll just keep my disklikes to myself until theres a need not to. How Long I've Been Roleplaying:: Well I'm 29 and I've been Rping since I was 15 so someon can do that math for me cause I hate mathematics. -lol-

What People Don't Know About Me:: What? You thought I'd actually spill the beans now? Silly reader you are tsk tsk tsk. Better Luck next time








Staff: Mouse

Name - OOCly !Wrath!

Age - 26

======A little about me====

Hey hey, I'm !Wrath! aka DotLady. I am a 26 year old single mom, I am currently going back to school to get my degree in visual communications with a minor in graphic design. I am working at Papa John's Pizza as a manager, and that's about all I can tell you there. LOL. Anyways, my son is three about to turn four and is a hand full of creativity.
I've been roleplaying for a little over 10 years, I started rping in a little room known as the Vampire's Kiss. I stayed with them for several years until it was shut down, not because of anything bad. I then moved to Shards, where I met one of my best friends, and former prom date. Many of you may or may not know of Rogen Warlock, he is my RT brother and the reason I came to some of the sites that came about. Two of which are WebMaze and Alter Realms, there I met many of my other friends. I have watched the break off of Darkthorne into his own site, and the merging of Creativity chat and Alter Realms. Moving on from that, I am an rper of all sorts of characters. My favorite has to be a toss up between a werewolf and a vampire. I also play in Medieval rooms as well as modern rooms.
I have recently opened my own room, which is still under construction because my rt life is very crazy. I am an av artist, not the best in the world, but I am getting better everyday. I have a request board on Starting-A-Riot called Broken, feel free to stop by and request something. I'm not sure what else to put in here about myself, so if you have questions and see me about feel free to ask!!